SUBMIT YOUR PAPER FOR MARCH ISSUE, 2017
International Journal of Information Research and Review (IJIIRR)(ISSN: 2349-9141)  is an open access, specialized, peer-reviewed, and interdisciplinary journal that focuses on research, development and application within the fields of innovation, engineering, science and technology. Published four times per year, it tries to give its contribution for enhancement of research studies. International Journal of Information Research and Review (IJIRR) is an international peer-review, monthly academic research journal in all the fields.  The IJIRR is to create for review, reflection and discussion informed by the results of recent and ongoing research in each and all fields. IJIRR encourage new ideas and works in all the field and it publishes high-quality original papers, theory-based empirical papers, review papers, case reports, conferences reports/papers, technology reports, book reviews, commentaries, event's and news. Special issues devoted to important topics in all the fields.
Accounting & Finance, Advertising, Agricultural Sciences, Agriculture, Animal/ Veterinary Sciences, Anthropology, Architecture/ Planning, Arts and Humanities, Ayurveda, Biological or Life Sciences, Biotechnology, Botany/Zoology Business Research, Chemical Sciences, Chemistry, Commerce, Law or Juridical Sciences, Computer Application, Computer Sciences, Consumer Behavior & Relationship Management, Corporate Governance, Dental Sciences, Earth Sciences E-commerce, Economics, Education, Educational Sciences, Engineering & Technology, Engineering Sciences, English, Entrepreneurship, Environmental Sciences, Fishery Sciences, Forestry, Geography, Geology, Health Care Management, Health Sciences, History, Human Resources Management, Industrial Relations, Information Technology, International Business, Law / Criminology, Library Sciences , Life Sciences, Logistics and Supply chain Management, Management, Management Studies, Marine Microbiology, Marketing communication, Marketing Management, Mathematical and Statistical Sciences, Medical Sciences, Medicine, Music and other Performing Arts, Nursing / Pharmacy, Nutrition, Paramedical Sciences, Performing Arts, Pharmaceutical Sciences, Philosophy, Philosophy, Physical Education, Physical Sciences, Physics, Physiotherapy, Political Sciences, Population Studies, Psychology, Selling and Marketing techniques, Social Sciences, Social Work, Sociology, Sports Physiology, Strategic Management, Total Quality Management, Training and Development, Unani Medicine and Public Health, Veterinary Sciences.
High Impact Factor | Fast Track Publishing
---
IJIRR is open access, double blinded referred and peer reviewed international research journal with high impact factor , low publishing charges and fast track publishing. IJIRR strictly follow Open Access model for research paper publishing thus reaching to Global community without any restriction. We have adequately trained staff which keeps our online presence strong against our competitors and all our research papers got listed in Google Scholar within few days only. We have achieved all our papers and many other repositories for marketing all research paper published in our journal.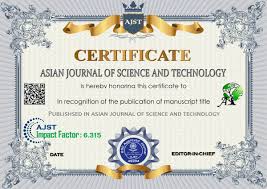 Journal of IJIRR has
Communication of authors to get the manuscript status time to time.  Full-text availability of articles in the form of PDF;  On-line submission is fast and efficient;   Rapid publication of research articles;  A broad ranging open access online journal;   Eminent editorials from throughout  the world;  Our journal indexed in different reputed publisher databases
....................................................................................................................................................................................................................................................
Authors are requested to submit your research and review articles through online to us at : articles@ijirr.com (or) editor@ijirr.com: 
Submitted manuscript number will be emailed to the corresponding author within 24 hours.